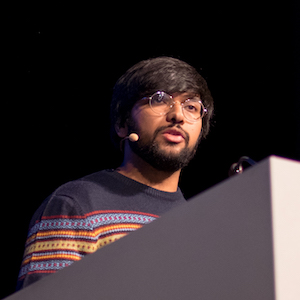 Computer Programmer from India Currently Building Enterprise Products for the Web. International Speaker, Open Source Software Author and Contributor.
Organises React Delhi-NCR and Open Source Delhi Community Meetups.
Plays Drums (Occasionally), Loves Travelling, Listening to Rock Music and Playing Video Games.
GitHub
Twitter
Linkedin
Behance
Blog
Work
Currently Working on Header Bidding and Various Other Ad Revenue Optimisation Technologies at AdPushup Inc.
Talks and Presentations from JSConf Belgium, JSConf Iceland and Other Community Meetups.
Utilities and Modules written in ReactJS, AngularJS, NodeJS, Sass/CSS etc. that get 1.1M Downloads every Month!